CEREMONY:Team is Fully Geared Up for the Race to Start. Prologue run and no-spectator ceremonial start is held in Jeddah.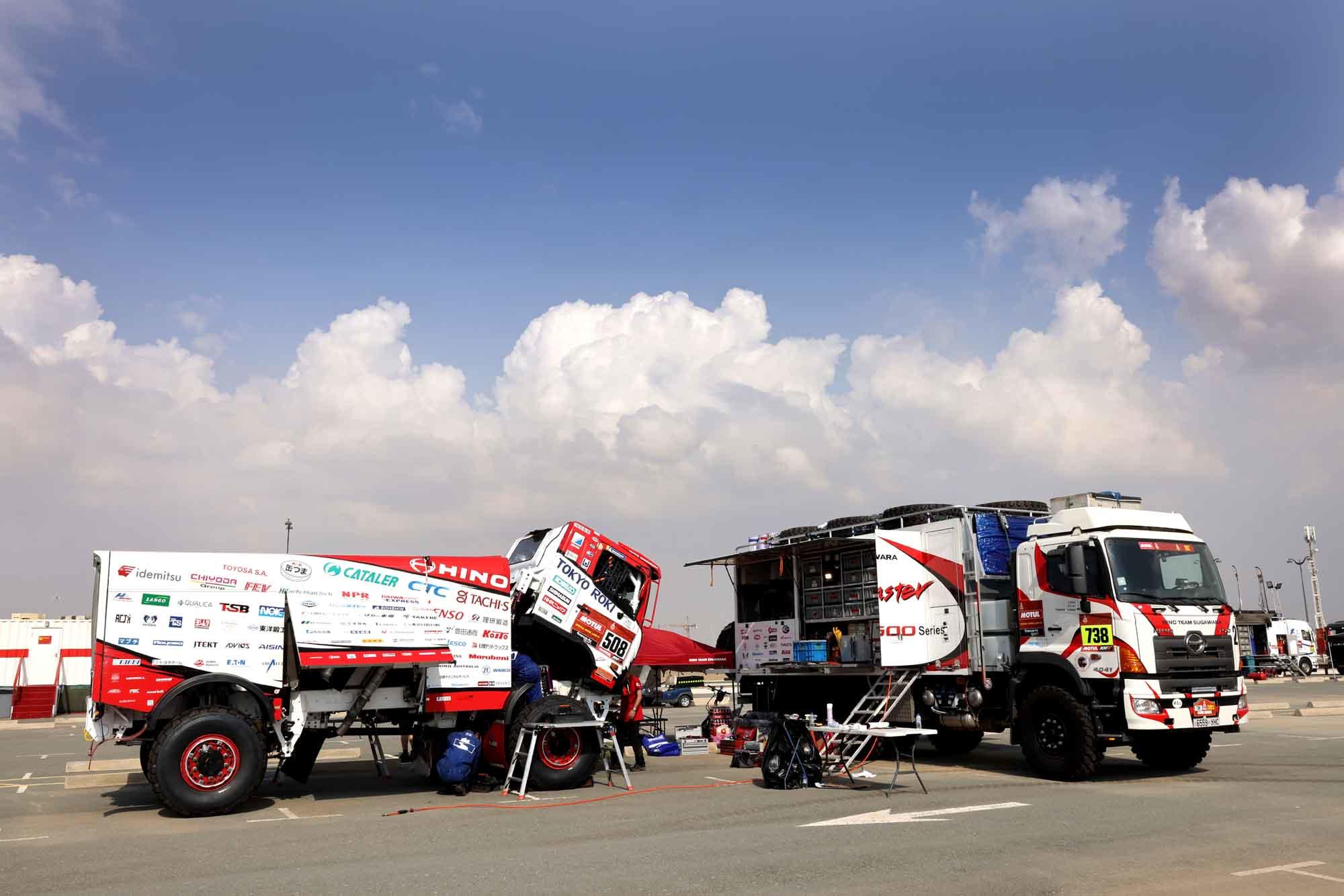 HINO500 Series truck undergoes final adjustments at a maintenance facility in a sports center on the outskirts of Jeddah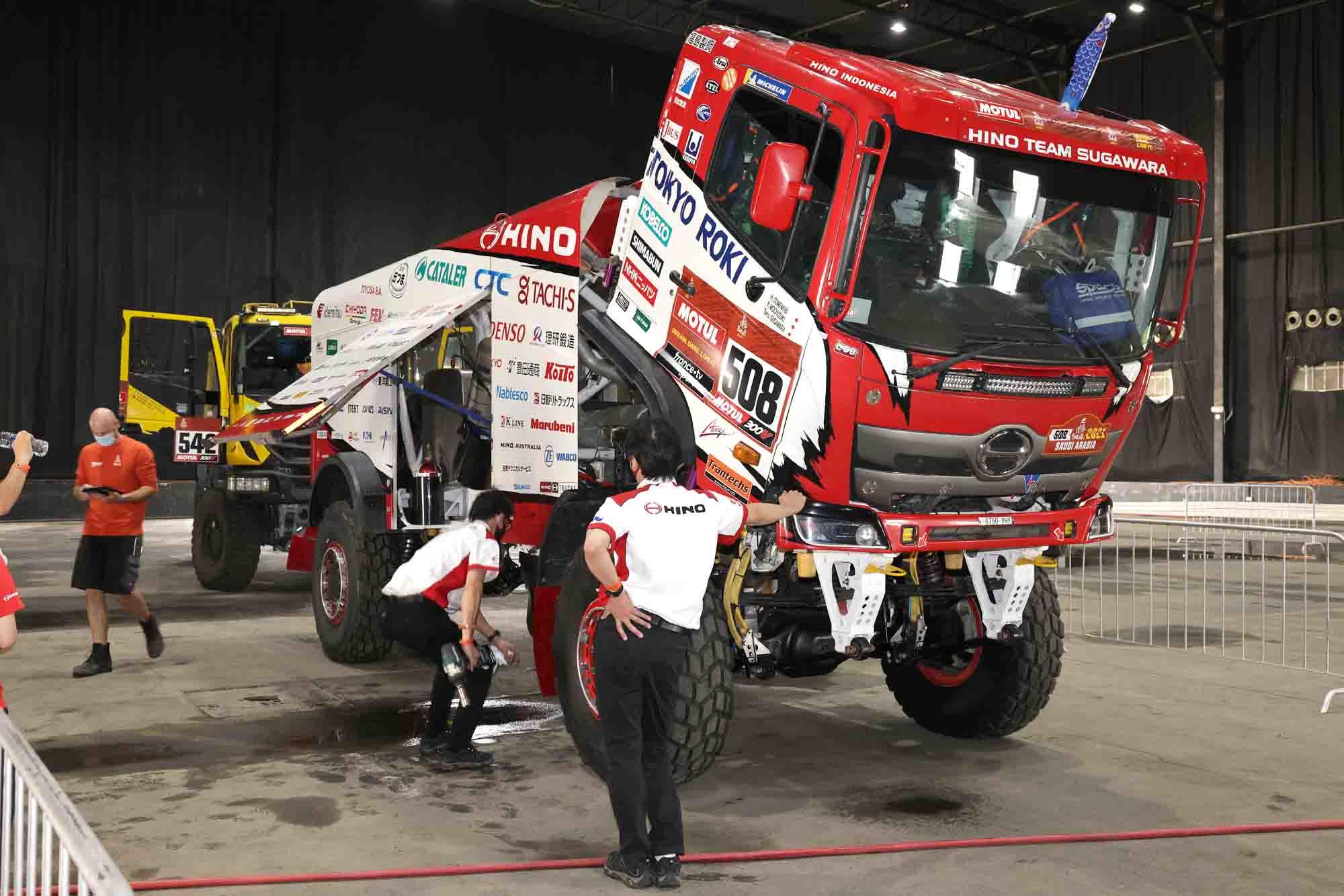 Teruhito Sugawara watches over the seals being applied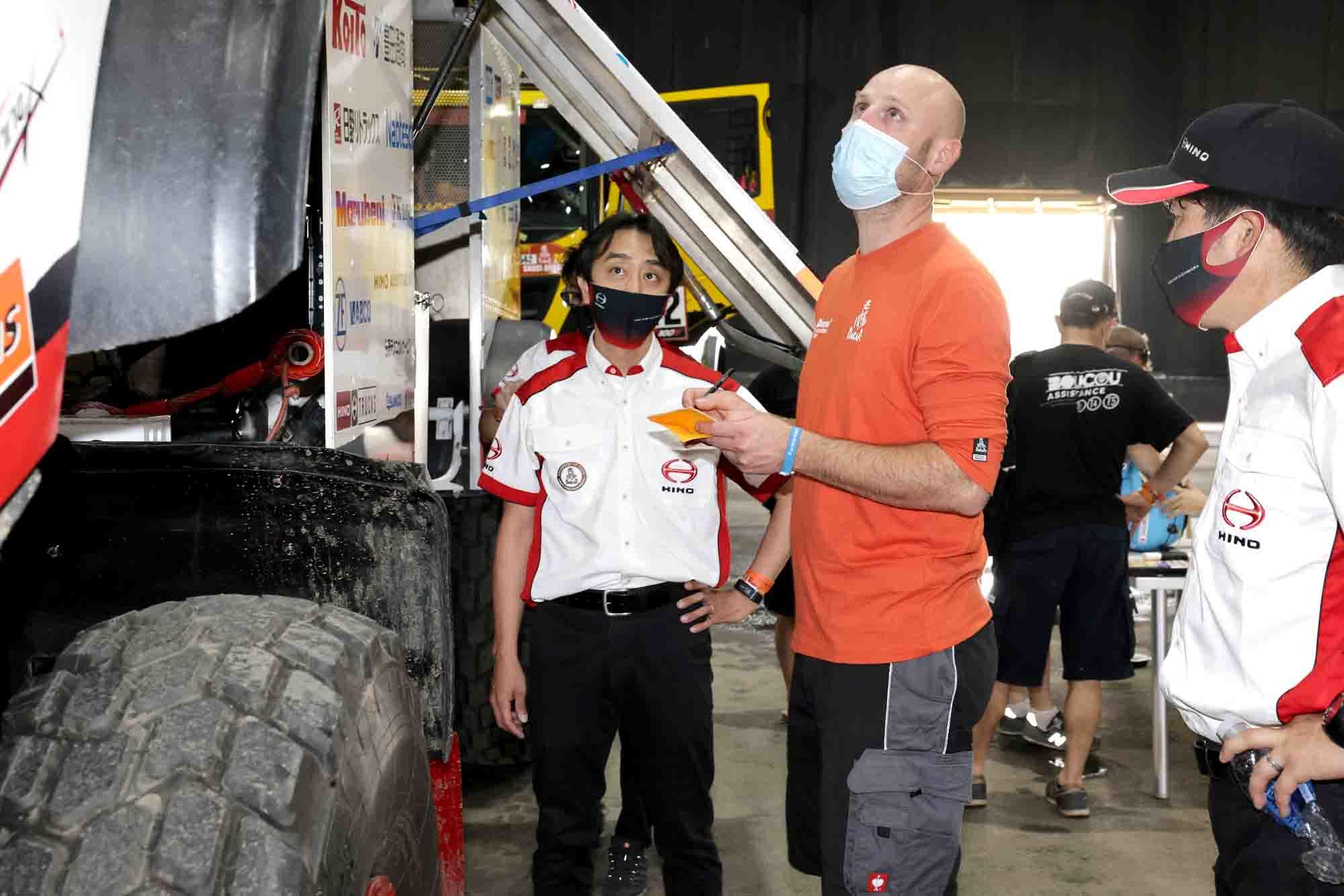 Team staff answer inspector's questions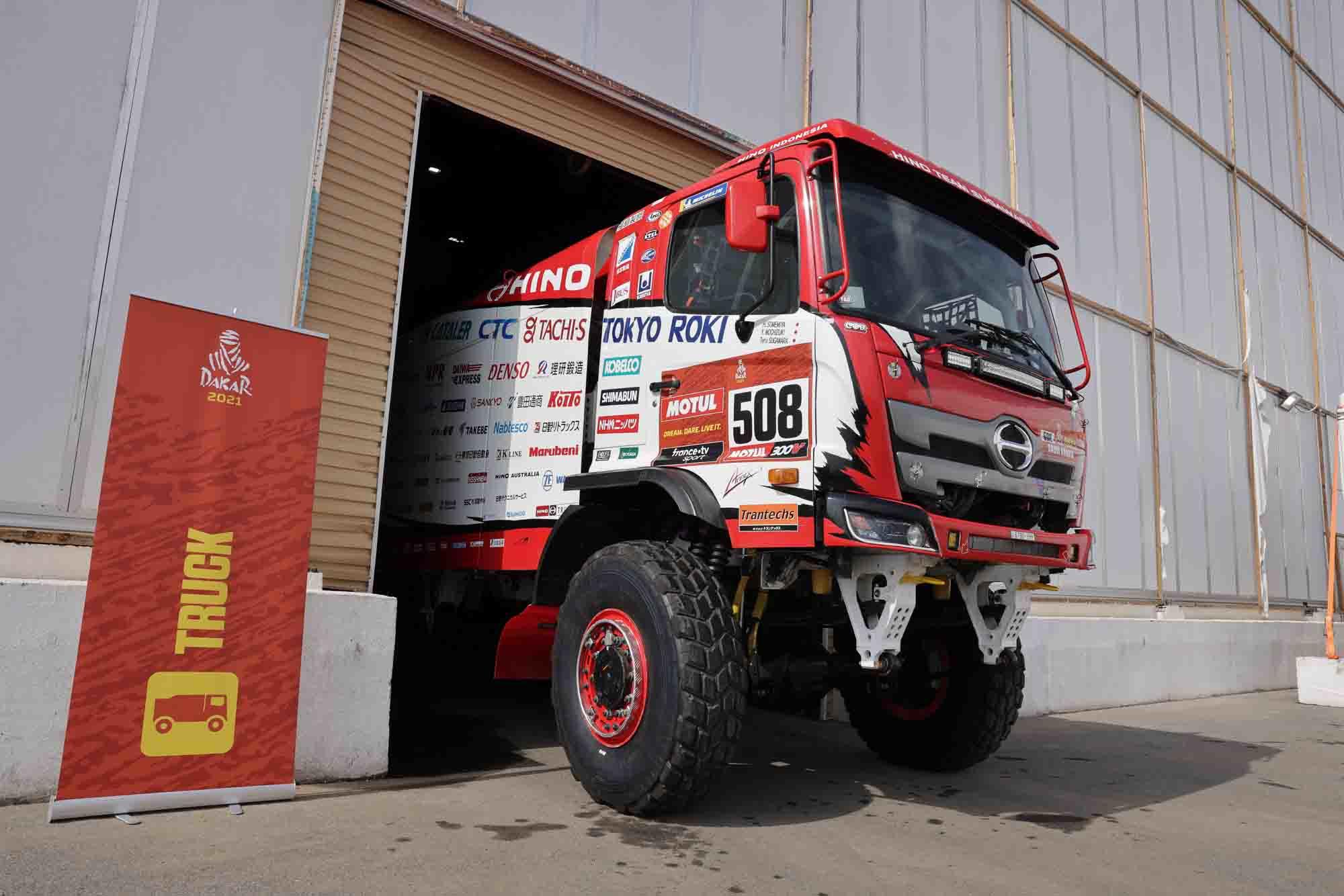 The HINO500 Series truck leaves the vehicle inspection site after passing inspections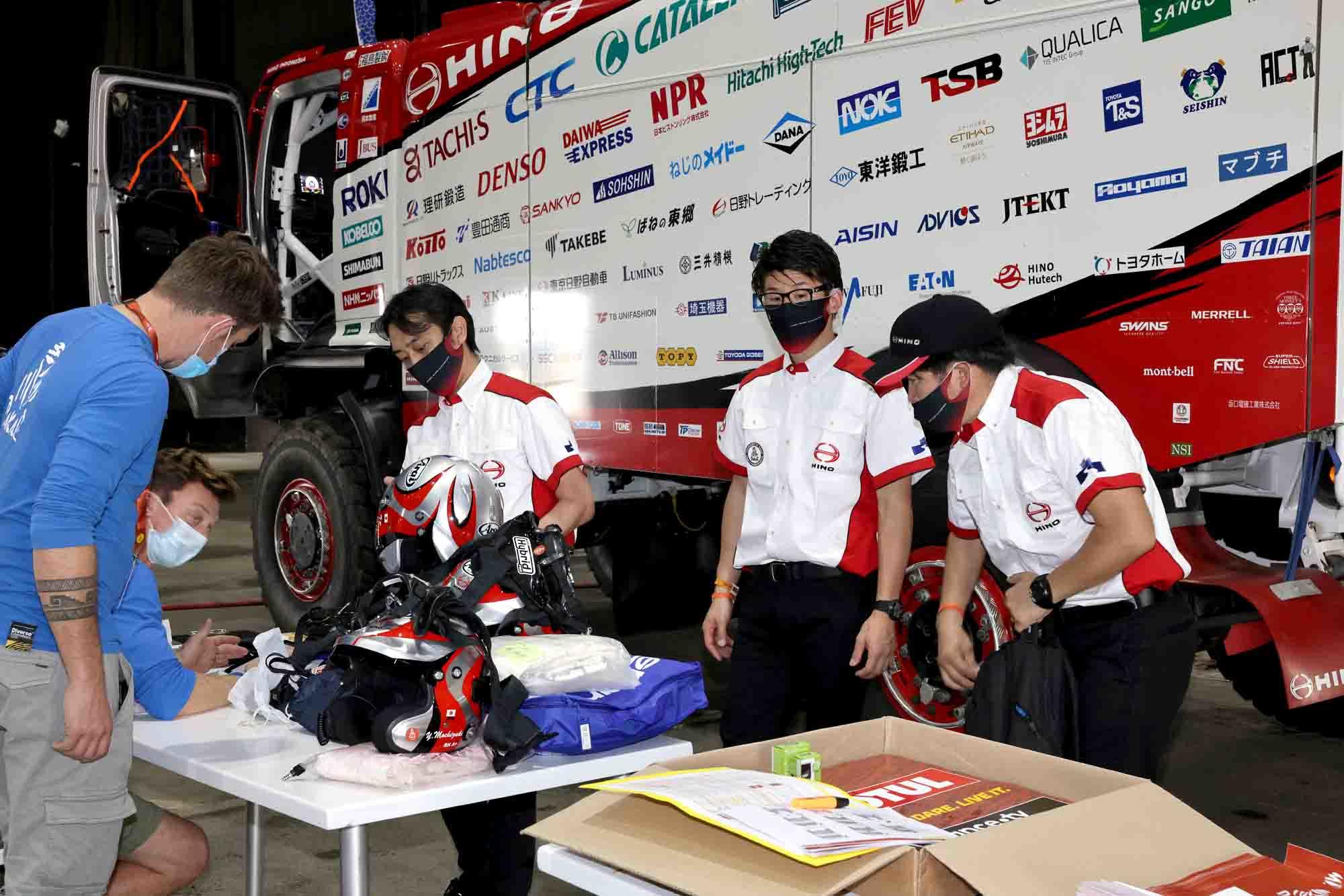 HINO TEAM SUGAWARA undergoes equipment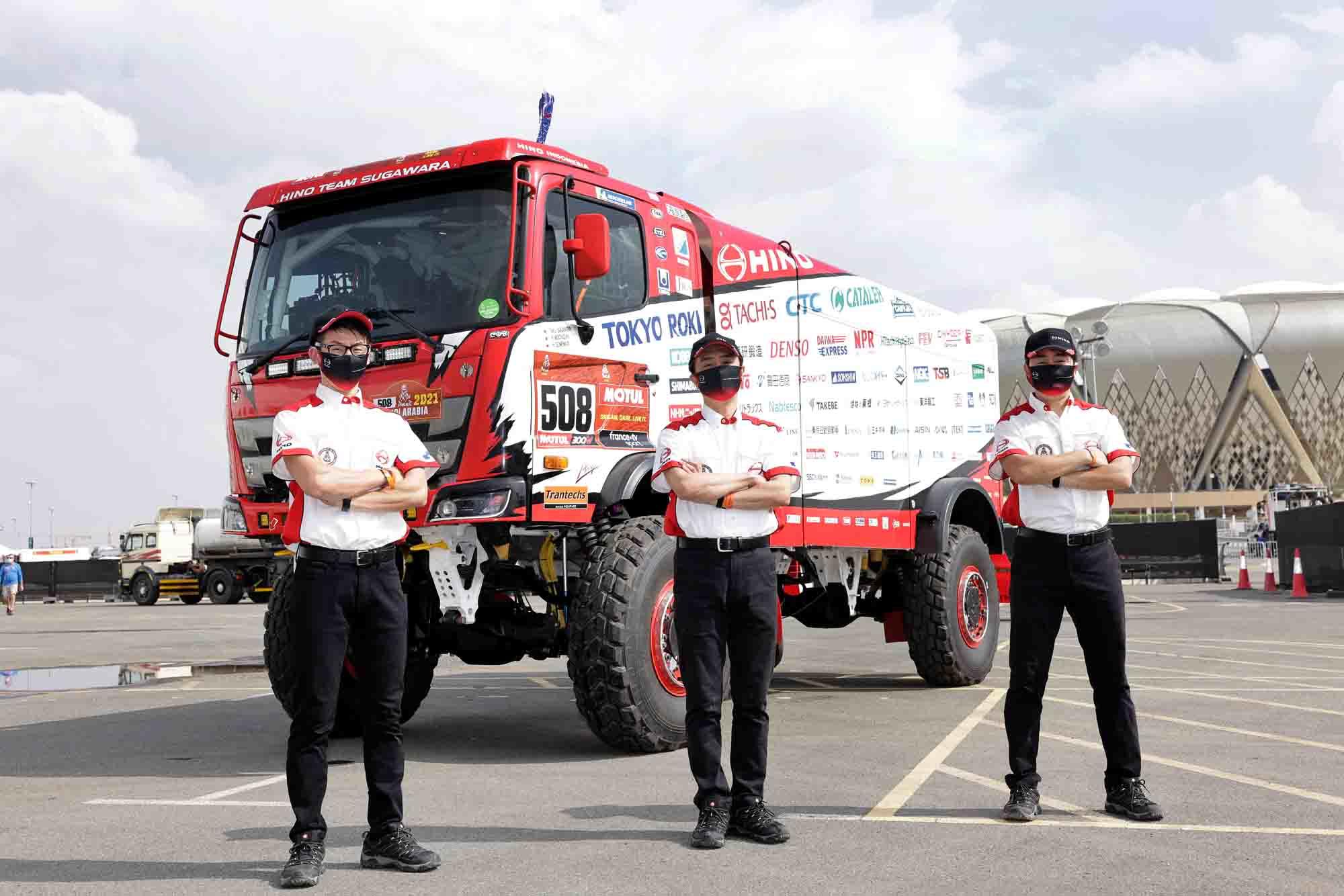 HINO TEAM SUGAWARA undergoes their vehicle inspection at the King Abdullah Sports Center
As COVID infections continue to spread globally, all stakeholders of the Dakar 2021 event are exercising extreme caution in their infection countermeasures to ensure the event's success.
The rally is set in Saudi Arabia in the Middle East, the same country as the last event. Centered in Jeddah, the country's second largest city on the Red Sea coast (as both the start and finish city), the race will take contestants in a counterclockwise direction–the opposite direction from last year–circuiting the country for 13 days over 12 stages.
The total distance traveled will come to 8009 kilometers, of which 4767 kilometers consist of Special Stages (SS) for a relatively high SS ratio to total distance.
Racing is expected to be tough in this country where most of its land area is desert.
HINO TEAM SUGAWARA will be taking on this event on one HiNO 500 Series truck.
Based on specifications of last year's truck, this year's truck has received further upgrades including countermeasures for vibrations on rough terrain and lighter weight,
and is expected to deliver best-in-class racing performance.
The truck is piloted by driver Teruhito Sugawara who also serves as team director.
Hirokazu Somemiya and Yuji Mochizuki (Hino Motors, Ltd.), both of whom navigated Sugawara's truck last year, round out this crew which is bonded by their trust for each other.
Although the team has decided to downsize their on-site assistance squad to a decidedly compact size
–manned solely by six staff members from Japan Racing Management, the company that Sugawara serves as president–
in their effort to address the COVID outbreak, they will be leveraging the excellent teamwork they have come to be known for to clinch their 12th straight win
in the Under 10-litre Class and finish at a high overall ranking in the Truck Division.
The three-man advance contingent, including Sugawara and chief mechanic Seiichi Suzuki, arrived in Saudi Arabia on the 19th and took all necessary precautions,
including taking three PCR tests, before setting out on their activities.
Upon taking possession of their HINO500 Series truck that arrived by sea from Japan,they joined with other staff members who arrived later to perform final adjustments and inspections on the truck at an organizer-designated location isolated from the general public.
The truck passed the vehicle inspection without event on Jan 1.
On Jan 2, an 11-km prologue run was held to determine the starting order for Stage 1, and the team's truck finished at 19th place out of 44 entrants in the Truck Division.
This was followed by a no-spectator start ceremony held at the King Abdullah Sports City where the HINO 500 Series truck appeared at the podium at around 10 pm.
This concluded all preparations for the competition's kick off. Stage 1 starts out from Jeddah on Jan 3.
Contestants are scheduled to race a 277-km SS on a southbound route along the Red Sea coast on their way to their first bivouac in Bisha.
Teruhito Sugawara
We are entering only one truck and our team is smaller this year, but we all remain upbeat regardless.
Our goal is to fulfill our collective responsibilities and finish at a higher overall ranking than last year.
We put our truck through more tests in Japan than we typically do, and we are very eager to actually race this truck since we put a lot of time and effort into upgrading its cab suspension and many of its other elements.
Yuji Mochizuki
I will be joined by Mr. Somemiya again this year. I'm an engineer by profession, but I am committed to help Mr. Teruhito perform at his best as a navigator.
One of my other key responsibilities is to gather data that we can use for future development. To that effect, we have replaced the data logger with a more easy-to-use system.
Hirokazu Somemiya
For this year's race, organizers have digitized the roadbooks (for display on LCD) in addition to handing them out just before the start. We can't go over them ahead of time, so we need to respond on the spot to different situations as they arise. While it's a bit of work remembering the abbreviations (in French) in the roadbooks, I am committed to give it my best.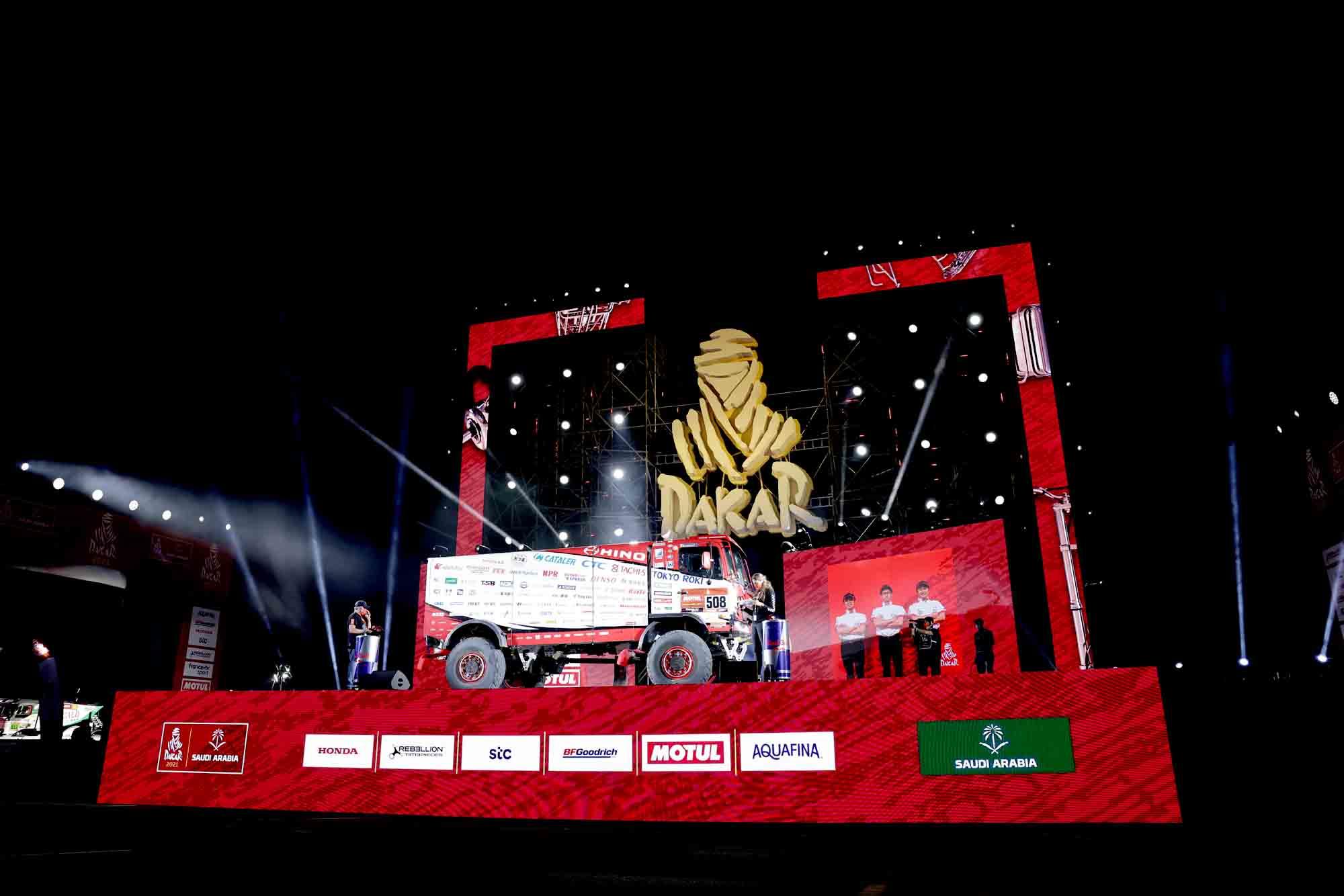 HINO500 Series truck on the start podium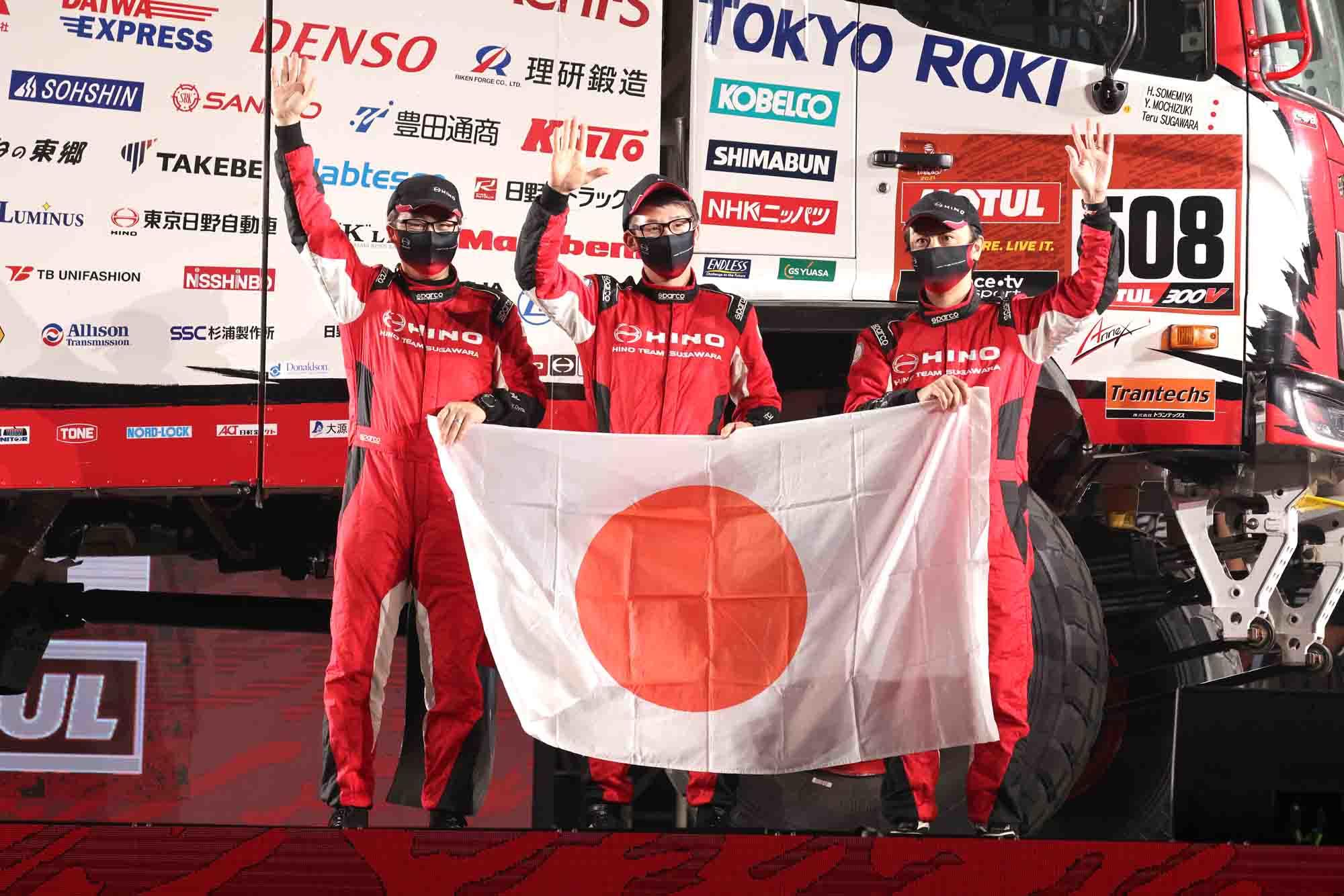 Teruhito Sugawara, Yuji Mochizuki, and Hirokazu Somemiya hold up the Japanese flag on the start podium