Team Sugawara's Truck finishes the first long Special Stage of the Event, Facing Full-Blown Dunes in the Desert
STAGE 2: Racers Face Full-Blown Dunes in a Desert Stage in the South. Team's truck finishes the first long SS of the event at 14th place.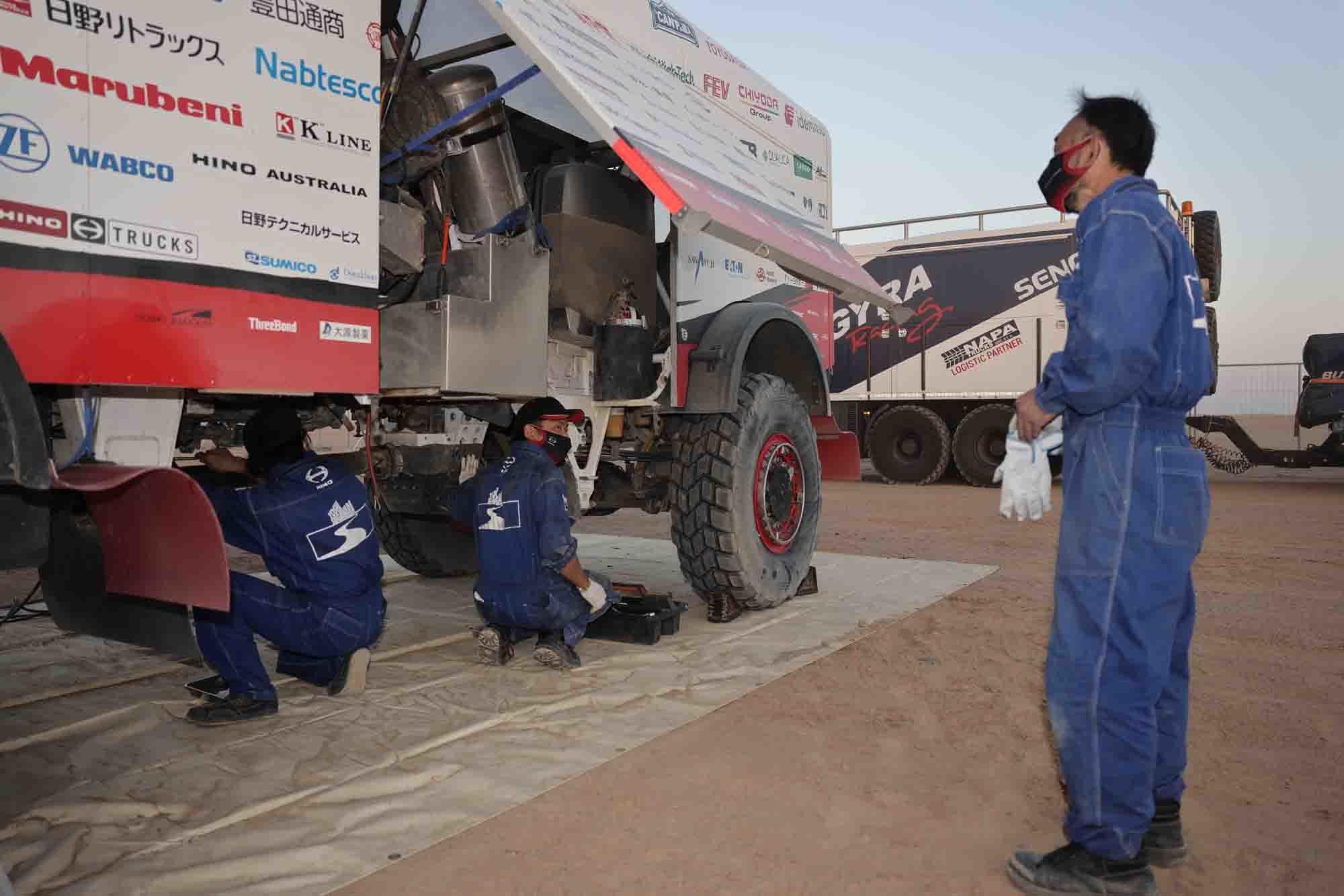 Chief mechanic Seiichi Suzuki supervises the servicing work.
On Jan 4, Dakar 2021 took contestants on a 457-km SS (timed section) en route from Bisha to Wadi Ad-Dawasir at the northern end of the Rub' al Khali Desert.
The HINO500 Series truck piloted by the Teruhito Sugawara/Hirokazu Somemiya/Yuji Mochizuki crew finished the SS at 14th place overall (1st place in the Under 10-litre Class).
The SS that finished at Bisha the previous day–the very first day of the rally–was a tough one for racers, what with the risk of tire flats and daunting navigational challenges.
Day 2 followed suit regardless of it still being early in the event, treating contestants with full-blown dune sections and a long SS to boot, giving teams a glimpse of the high levels of difficulty that may be in store for them this year.
The starting line for the day's SS was set at a point 135 km north of the Bisha bivouac.
Contestants headed for Wadi Ad-Dawasir to the east on an S-shaped route that featured a variety of different surfaces from dune and erg (sand ridges sprawled on plateaus) crossings to high speed sandy terrain and winding roads.
Fitted with tires designed for maximum performance on sandy surfaces, the crew exploited the HINO500 Series' excellent mobility to traverse the stage's dunes without any complications.
While there were a number of instances where the truck could have nearly gotten bogged down, they were able to clear these without ever actually getting stuck, and traversed a later sandy section with rocks buried hidden without suffering any tire punctures.
Once across the SS finish line, teams took a 93 km liaison to reach Wadi Ad-Dawasir.
This location is situated on a flat plateau and teams have been here before in the previous event. On Jan 5, contestants will race a 403-km SS on a loop stage based out of Wadi Ad-Dawasir in the vast Rub' al Khali (Arabic for "Empty Quarter") Desert.
Teruhito Sugawara
A characteristic of the tires we chose today is that they allow us to drive in sand without losing efficiency.
They were a great fit for the day's stage and it felt great driving on them. We came across undulating dunes like what you would find in South America, so this somewhat confirms my suspicion that this year's courses may have been designed for difficulty.
Hirokazu Somemiya
While we hardly saw any roads on most of the day's sections, navigation was not that difficult because we had ruts left by vehicles ahead of us to follow, and only had to keep an eye on our bearing in the dunes.
While I am a bit tired as this was the first long stage in a while for me, I'm glad we made it without any problems.
Yuji Mochizuki
I sit in the center seat and operate the Central Tire Inflation System (CTIS), and I noticed on the dunes today that it wasn't responding to my input as quickly as I would like.
This seems to be coming from a problem with its control software so I will be looking into that.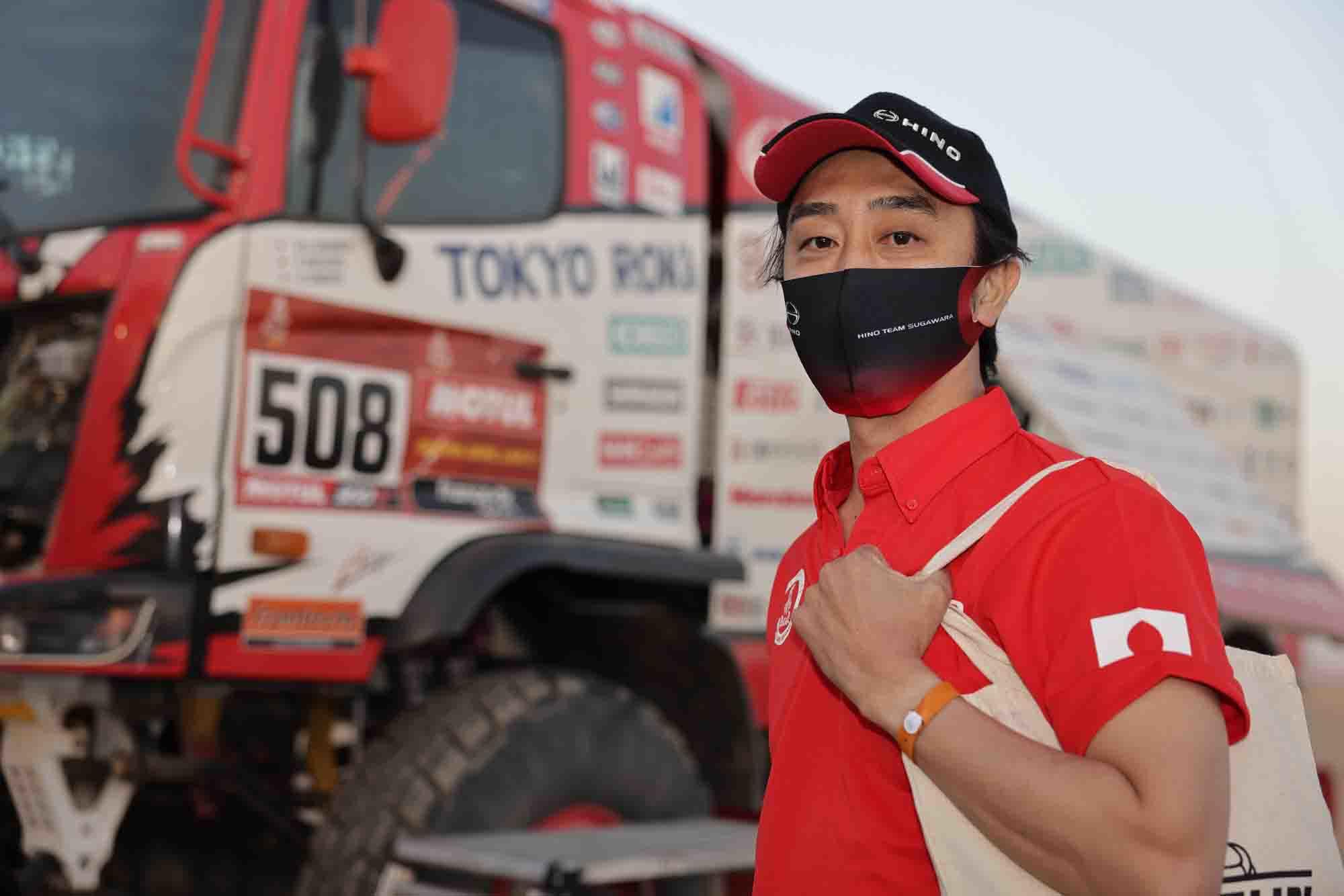 Teruhito Sugawara is headed for the shower at the Wadi Ad-Dawasir bivouac.